Vetrix BioSIS was used in interesting feline surgical case report performed at University of Zurich.
Vetrix BioSIS ECM is a perfect solution for soft tissue repair. We are constant learning of interesting procedures where Vetrix SIS was used to repair a defect. A perfect example is the feline case report submitted several years ago by Dr. Angelo Andreoni and Dr. Katja Voss from our good friends at the University of Zurich. Remember, when you are faced with a soft tissue injury, use Vetrix BioSIS to not only prevent scarring, but actually regenerate new organized tissue. Just like in Dr. Andreoni and Dr. Voss's study, Vetrix BioSIS is scientifically proven to regenerate a variety of host tissue
CASE REPORT: Reconstruction of a large diaphragmatic defect in a kitten using small intestinal submucosa (SIS)
Angelo A. Andreoni, Dr Med Vet, Katja Voss, Dr. Med Vet Diplomate ECVS
Abstract:
A double-layer sheet of small intestinal submucosa (SIS) was used to reconstruct a large chronic diaphragmatic defect in a 4-month-old kitten. The SIS graft was easy to use, postoperative recovery was uneventful, no side effects of the SIS implant were observed, and the SIS graft resulted in restoration of normal clinical function while allowing growth of the kitten without restriction of chest wall development. Herniation of fat through the caval hiatus was diagnosed 29 months postoperatively on a CT scan. The cat was free of clinical signs.
View Full Length Case Report- Andreoni_JFelineMed_2009 [epub]
 Vetrix LLC is the leading provider of veterinary extracellular matrix (ECM) technologies, providing an environment for cells to naturally regenerate via an acelluar graft. Vetrix, which is derived from porcine small intestinal submucosa (SIS), can be surgically implanted on any tissue area in need of repair, including the skin, tendons and ligaments, cartilage, muscles, bones and more. The product repairs and regenerates cells in damaged areas by mimicking the natural functionality of the surrounding area, healing wounds quicker than ever.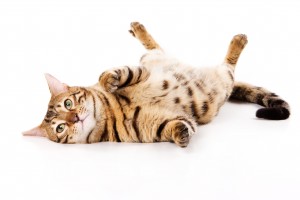 http://rethinkhealing.com/wp-content/uploads/2012/08/logo-300x120.png
0
0
vetrix
http://rethinkhealing.com/wp-content/uploads/2012/08/logo-300x120.png
vetrix
2014-02-26 21:30:27
2014-02-28 00:43:00
Feline Surgical Case Report Using Vetrix SIS