Vetrix® BioSIS Neurology Overview
Neurological surgery can be very serious procedures. Vetrix® BioSIS ECM is a naturally occurring biological matrix that is perfect for native tissue repair. When placed as a dural graft or laminectomy barrier, the intimate contact between Vetrix® and the surrounding tissue allow cells to migrate, separate, and differentiate within the bio-scaffold. Once angiogenesis has enveloped the Vetrix® BioSIS, the material will resorb into the body, leaving behind only native, organized tissue.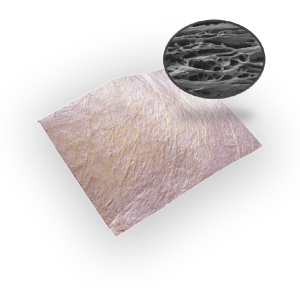 Download BioSIS® Informational Brochure
Implantation Of BioSIS To Reduce Postlaminectomy Epidural Adhesions
Dr. Rebecca Packer DVM, MS, DACVIM (Neurology)
College Of Veterinary Medicine And Biological Sciences
Colorado State University
BioSIS for neurology is a platform technology. The architectural structure of Vetrix® BioSIS allows for numerous surgical applications. The shelf stable, naturally-occurring, complex matrix is easy to handle, yet strong enough to hold sutures and provide support for weakened tissue. Surgical examples for use of Vetrix® BioSIS include:
*Note that only BioSIS multi-layer products are indicated for prevention of CSF leakage.