Vetrix® Surgical Applications Overview
Vetrix® BioSIS provides site-specific healing. In other words, Vetrix® BioSIS provides a natural structure, and enables the body's natural healing process. When placed at a damaged site, the intimate contact between Vetrix® and the surrounding tissue allow cells to migrate, separate, and differentiate within the matrix.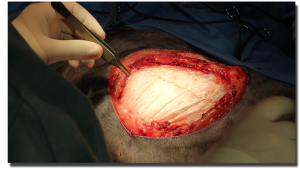 Site-Specific Healing for Surgical Applications
A platform technology, the site-specific nature of BioSIS allows for numerous surgical applications. The naturally-occurring, complex matrix is easy to handle, yet strong enough to hold sutures and provide support for weakened tissue. Surgical examples include:
Download BioSIS® Informational Brochure
Dr. Benjamino, with Affiliated Veterinary Specialists in Orange Park, FL, performs rib resection and thoracic wall repair with BioSIS and latissimus dorsi flap.